The Yarn Squad
---
"Morning Owls created a beautiful website for my small business, The Yarn Squad. They listened carefully to my wish list which included dynamic visuals to display my art, a blog space for my thoughts, and a shop for commissioned work."
Dawn Strefling
---
The Yarn Squad makes wonderful custom crocheted 12-inch dolls and is adding a line of shorter dolls. Their founder, Dawn Strefling, has been creating dolls since 2011 when she opened her Etsy store. Over the years she has perfected her style and has captured a devoted fan base. Dawn's attention to detail is one of the things that sets her apart from her competitors.
Dawn at The Yarn Squad joined the Morning Owls Web Development family in October 2020 when she was ready to expand past Etsy and have more control over her brand. For her, we created a beautiful custom website using our Tier 3 package which gives her a three-page layout with a newsletter sign-up, a blog, a dynamic News & Events section, and a professional WooCommerce shop.
---
"The website they designed for me is responsive and attractive. It displays beautifully on mobile devices where most of my clients access my website. "
Dawn Strefling
---
Logo Update
The first order of business was updating The Yarn Squad's logo. Maggie, our photo editing whiz, cleaned up the background, sharpened the lettering, and replaced the realistic looking orange with a more up-to-date flat image.
Original Logo
Good overall but the lettering has a fuzzy appearance and the background is not transparent which makes the logo look a bit yellowed.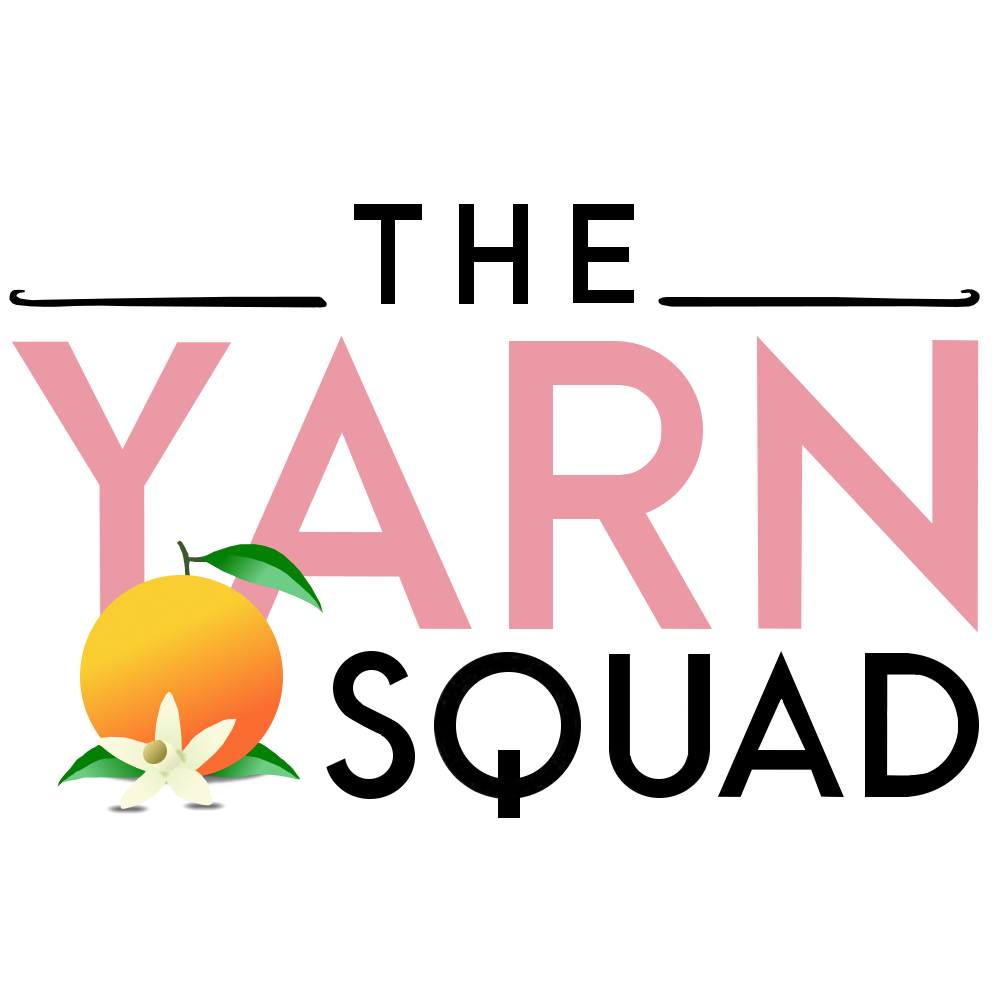 Updated Logo
Letters are sharpened, background is made transparent and uniformed, and the orange and flower are stylized.
Tab Icon
The Yarn Squad's bright new orange trademark now sits proudly in the browser tab and has become their internet symbol.

---
"Maggie's eye for color and design is refreshing."
Dawn Strefling
---
3-Page Custom Design
The Yarn Squad's main three pages consist of the front landing page, a photo gallery, and an About page. We brought in the colors from her logo, added special touches like changing colors on button hovers, and a sliding showcase to display her range of work.
Landing Page
The first page on Dawn's website is clean and elegant with hints of movement that shows the audience they have arrived at a professional website with individual style and not a cookie- cutter e-commerce site. The landing page shows examples of Dawn's work, shares reviews from various clients, and dynamically displays the most recent News & Events.
Photo Gallery
The photo gallery page displays a grid-work of images representing past work. Dawn changes these photos as often as she wants replacing older examples with new pieces.
About Page
This page is where Dawn has shared her back story and gives her a space to let her audience know a bit more about her.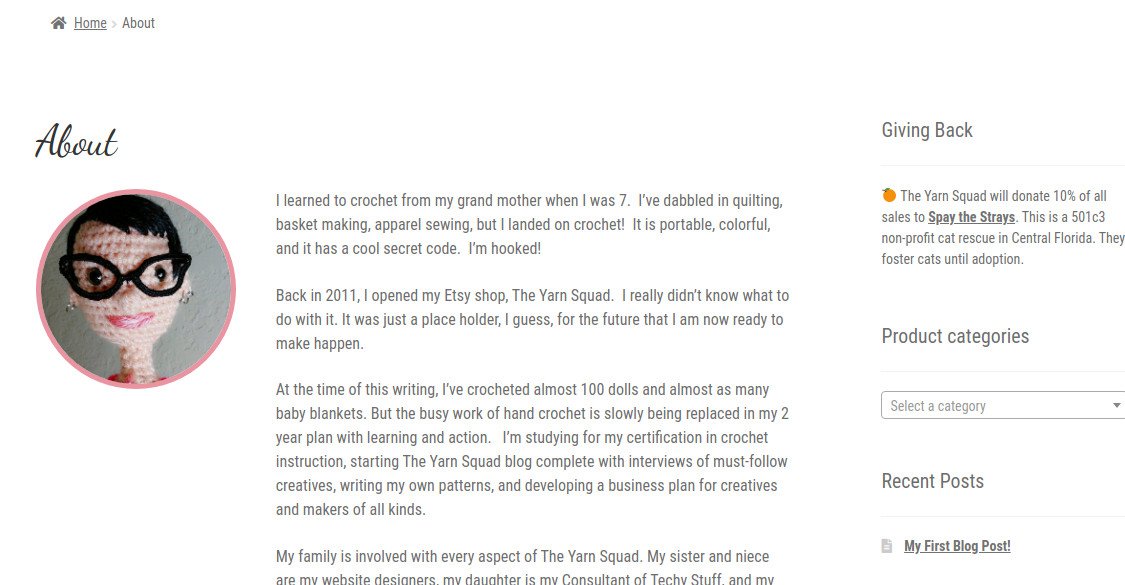 ---
"Dana is a patient teacher and showed me exactly how to get the most out of my website through email, video and telephonic lessons. Communication is easy and I know that great customer service will always be available."
Dawn Strefling
---
Newsletter Sign-Up
The Newsletter sign-up allows Dawn's customers to sign-up for email notifications letting them to be amongst the first to hear about specials, promotionals, and blog postings. This is key to building your client relationships.
Blogging
Blogging is a way to help keep your company in the eyes of your clients and build relationships that last. Once you post your blog you can easily share it to various social media accounts to draw your readers back to your site. Dawn looks forward to turning her blog into an educational resource for new and experienced crocheters.
News & Events
The Yarn Squads' News & Events section is similar to blogging but with a more specialized focus. Dawn uses this section to highlight limited-time promotions and announcements that would get lost in a blog section.
And to ensure these postings get seen right away the most recent three event postings automatically get populated on the front landing page with a link to the full News & Events page to see more. This dynamic feature builds retention and improves bounce rate.
WooCommerce Shop
A WooCommerce store allows The Yarn Squad a quick and easy way to add and remove products, track statistics, and manage shipping and tax reporting.
---
Our Tier 3 package is for the established and active small business owner. This package gives you everything in the lower tiers and adds the power of a full-fledged store complete with shipping options, tax reporting, and other e-commerce reports.
Each of our packages comes with one year of hosting, site management, and system updates so you can focus on your own business and let Morning Owls worry about keeping your site operational.