Video marketing is a powerful tool that can help grow your business and retain customer interest.
---
"More and more brands are leveraging video content to grow their businesses and increase online reach, and it works."
---
But too much of a good thing can be bad. In the case of your website bad means slow and slow leads to increased costs and fewer customers.
The good news is there is a work around that solves each of these problems. You don't have to upload videos directly to your website. Instead you embed them.
The Problem
Slow Load Times
According to Websitebuilderexpert.com if the loading time on a website takes longer than three seconds it will incur a 38% bounce rate. This means customers are leaving. The simple fact is that videos are bulky to host and display due to their file size. The larger the resolution and the lengthier the video, the longer it takes to load. The longer it takes to load, more and more valuable viewers will leave.
Increased Costs
Minimizing the storage impact on your hosting service will not only help your website load faster it will also help you save money. The bigger the house, the costlier the upkeep.
The Solution
Let Video Sharing Platforms take the burden off your site and your pocket book.
Video sharing platforms, like YouTube, BitChute, and Vimeo, are optimized to handle large loads of videos. John Mueller, who works for Google as their lead of the Search Relations team, says there is no difference in how SEO is applied to embedded videos versus uploaded videos. Therefore, let a video sharing platform host your videos while you embed the videos into your website postings. Not only will your videos not take up your valuable hosting space, but they will load much faster because of the video compression algorithms inherent in these types of platforms. Embedding the videos directly in your posting helps you maintain audience retention where they can seek out more content within your website. Additionally, your YouTube channel continues to receive the view credits from your embedded video within your post
The most popular and widely known video sharing platform is YouTube. However, there are many alternatives that should not be overlooked. You can check them out in the article here YouTube Alternatives.
The How To
Embedding videos to your website is pretty easy but there are differences between the platforms. First you will want to upload your video content to your preferred video sharing account.
YouTube
Step 1: Find the video in your YouTube account and copy the URL (the internet address).
Step 2: In your WordPress post click on the plus sign to add a block and search for YouTube. Select the familiar YouTube icon that appears.
Step 3: Paste the link you copied to your YouTube video and press the blue Embed button.

And viola' – your video appears in your post! Embedded, playable, and not hogging your personal resources.
Go ahead and take 4 minutes to enjoy Stevie Nicks singing "Stop Draggin' My Heart Around" with Tom Petty. I can wait. Then scroll down for how to embed other platforms.
---
Other Platforms
You are not limited to YouTube for embedding videos. Instead of using the YouTube specific feature in the blocks you can search for the Embed tool.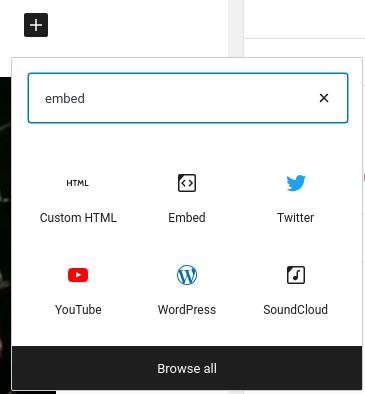 The embed tool works just like the YouTube tool. Just enter the URL of the video you want to share and click the blue Embed button.
Keeping with the Stevie Nicks theme this video is Gypsy.
Conclusion
So now you know just how easy it is to embed videos in your post, while simultaneously keeping your site-speed high and your hosting cost low.