---
"I tried several web designers over the years and could never get the kind of visual impact, usability, and bang for the buck that I finally found with Morning Owls. Their designs are artistic and sophisticated without making the navigation confusing.

I highly recommend Morning Owls… they're the Best!"
Marco Perella
---
Marco Perella has been making his living as a Professional Actor for over 40 years and has been leading actor workshops in the southwest for over 35. His energetic style and fun workshops keep actors engaged while preparing them for the real acting world.
Morning Owls was commissioned to rebuild the Actor Workshop website in early 2019. We enthusiastically transformed his static informational site into a dynamic Tier 2 space where actors could easily see upcoming workshops, sign-up and pay online for group or solo meet-ups, or ask questions through the easy and accessible online forms.
Style Update
Actor Workshop's website was originally developed in 2000. Each month the schedule text changed to reflect the new workshop themes and over the years a few pictures were updated. This website had served him well over the past 19 years but it was definitely time for an update.
2018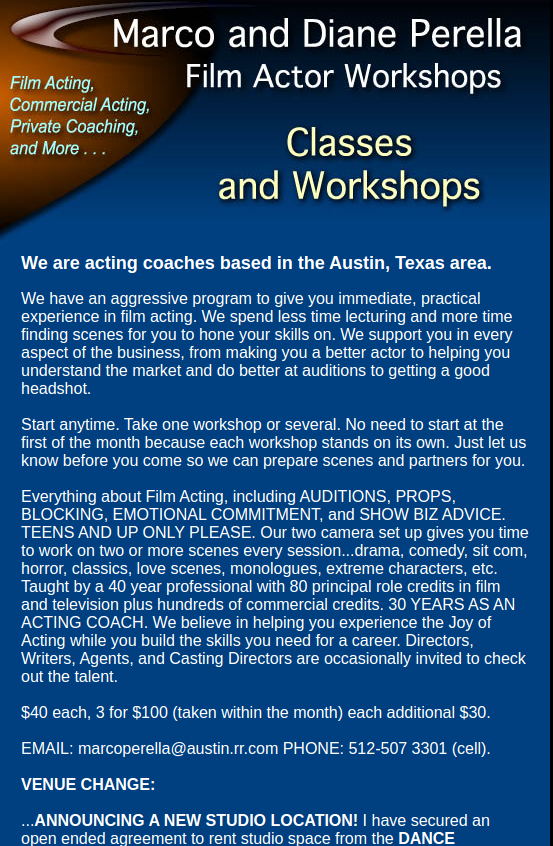 Readability
Morning Owls improved readability by creating whitespace, breaking up large blocks of text with images, and utilizing lists.
---
"Morning Owls made my websites more impressive for less money and improved my business overnight."
Marco Perella
---
Online Sign-Up
The updated Actor Workshop website has a sign-up form located with the schedule so participants can easily register with one-stop shopping.
Paypal
Gone are the days that payments had to be made onsite by cash or check only. Adding Paypal to the Actor Workshop website made paying and collecting payments faster and easier.
---
"In addition, I use them to make schedule changes and updates on my sites, and that has freed me up to take care of my business without worrying about if, how and when my sites will be updated. The answer to that has always been instantly and skillfully!"
Marco Perella
---
Online Classes
When Covid-19 swept through Marco and his Actor Workshop were able to continue working to help actors hone their skills. Marco switched all workshops to online using Skype while Maggie and I updated his website to reflect the new protocol and lower prices.
Actor Workshops new online presence opened his marketability to those outside his studio region. His online workshops have became so popular he had to open more time-slots.
---
Our Tier 2 package is for the small business that wants to engage the audience and has a service or product to sell or promote. The Tier 2 package gives you two dynamic post types allowing you to blog in one and have products, classes, or services in another. It also comes with an email sign-up for building customer relationships.
Each of our packages comes with one year of hosting, site management, and system updates so you can focus on your own business and let Morning Owls worry about keeping your site operational.